【Title】 GAMARJOBAT Online Streaming Live!! "KICK-ASS MIME"

https://www.ox-tv.jp/sys_event/p/details.aspx?evno=599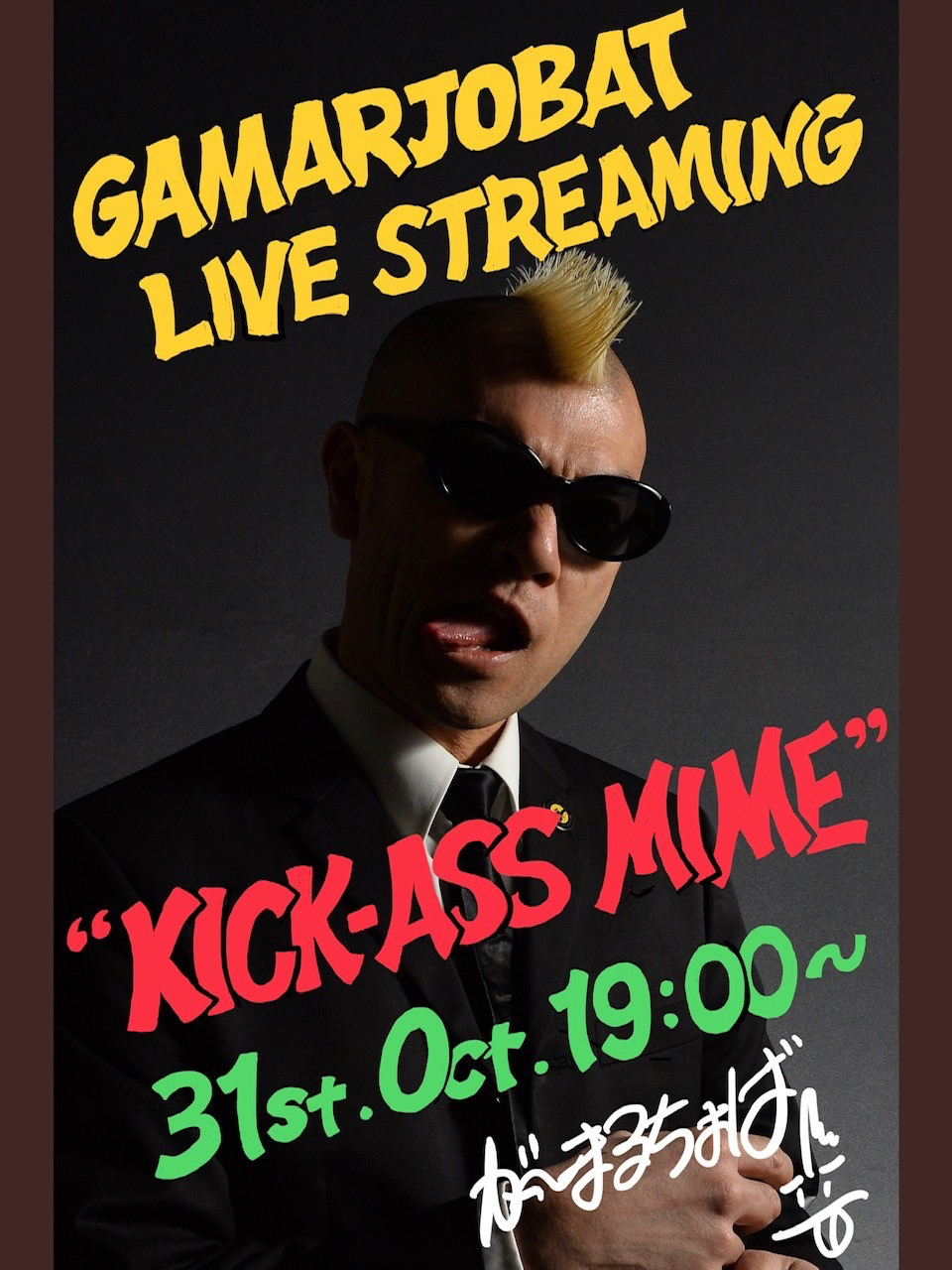 【Date】Saturday, October 31st, 2020 OPEN 18:30 / START 19:00
【Place】PIA LIVE STREAM
【Price】2,500yen (tax included)
【Streaming media】ULIZA
【Release date】10:00 a.m. on Saturday, September 12th, 2020 (JST)
【Sales period】10:00 a.m. on Saturday, September 12th, 2020 ~ 6:00 p.m. on Sunday, November 1st, 2020 (JST)
【Ticket Agency】Ticket Pia
https://t.pia.jp/pia/event/event.do?eventCd=2023433
【Date of archive streams】10:00 p.m. on Saturday, October 31st , 2020 ~ 10:00 p.m. on Sunday, November 1st, 2020 (JST)
【Written & Directed & Performed】GAMARJOBAT
【Organizer and Produced】Sendai Television
【Production】Tyath 'N'
【Cooperation】TOHOKU KYORITZ
【Contact】
[About the performance] Sendai Television
Operation Department TEL 022-268-2174 (weekdays 10:00 a.m. to 5:00 p.m.)
[About the live streaming] PIA LIVE STREAM TEL 017-718-3572 (weekdays 10:00 a.m. to 6:00 p.m.)
※This performance is the live streaming which uses the video streaming platform "ULIZA".
※After the live streaming is finished, purchaser of the ticket can watch archive streams from 10:00 p.m. on Saturday, October 31st to 9:59 p.m. on Sunday, November 1st.
※However, we are very sorry, but viewing is only available in Japan.
※Please refrain from capturing screens or posting screen captures on social media unless permitted by the organizer.