"GAMARJOBAT CINEMATIC COMEDY JAPAN TOUR 2023"
(※For detailed information on the official site lottery for the advanced tickets, please refer to the post for each show under the "TOPICS" tab of the website)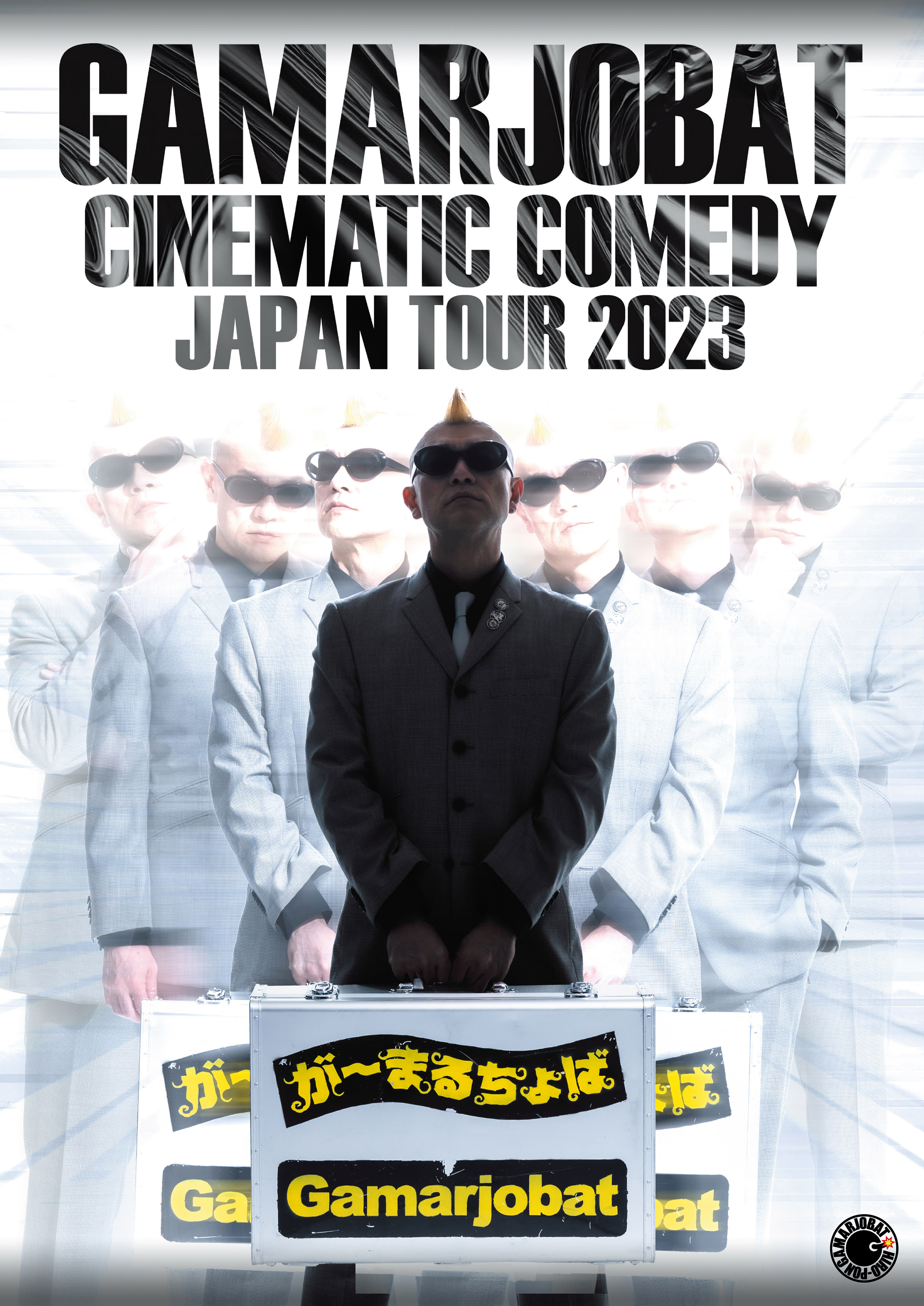 Gamarjobat's 2023 tour begins in Tokyo with a new set of mime performances. Like the last tour, "Please Please Mime" in 2021 to 2022, in which Gamarjobat pursued and expanded the possibility of mime performances, this tour's mime performances are on another level from the common, only comedy-focused mime performances we see on TV shows. The story-themed performance will be the main of the tour, followed by some short performances. Also, the NEW story-themed mime will be performed for the first time during the tour!!!
This is the one and only world premiere of Gamarjobat which delivers joy and happiness to those who missed the last time, who loved it last time, and who this will be your first time seeing Gamarjobat!!
----------------------------------------------------------------------
GAMARJOBAT CINEMATIC COMEDY JAPAN TOUR 2023
【Written & Directed & Performed 】Gamarjobat
【Planning & Production】 Tyath'N'Co.,Ltd.
----------------------------------------------------------------------
・・・・・・・・・・  <Machida, Tokyo> ・・・・・・・・・・
【Date】Saturday, June 24th, 2023 Start 5:30 PM (Door Opens 4:45 PM)
【Price】Reserved Searing Only ¥5,000(tax included) ※Age limit: Children over 6 years old can enter
【Organizer】Machida-shi Bunka and Kokusai Koryu Zaidan General Incorporated Foundations / Machida-Shimin-Hall
【Contact】Machida-Shimin-Hall / TEL:042-728-4300
※For detailed information on the official site lottery for the advanced tickets, please refer to the post for each show under the "TOPICS" tab of the website
<General Ticket Sales>
◎Date: Tuesday, April 4th at 8:30 AM JPT  ※On the first day, sales are only available on Kawasemi Online tickets or via phone call
◎Place
■Kawasemi Online Tickets https://www.m-shimin-hall.jp
■Machida-Shimin-Hall (phone call, on the site)/ TEL:042-728-4300
■Wako-Unicersity Potouri Hall Tsurukawa(on site)
◎Date: Tuesday, April 4th at 10 AM JPT
◎Place
■Ticket Pia
TEL: 0570-02-9999(P Code:517-702)
 Ticket Pia and Seven Eleven in-store
■Lawson Ticket
Lawson and Mini-Stop in-store(Loppi / L Code:34196)
■e+(E Plus)
 Family Mart in-store
■Ticket Sunrise
 Phone booking / TEL: 0570-077020 ※weekdays: 10 AM to 6 PM JPT
--------------------------------------------------------------------------------------------
・・・・・・・・・・ <Otemcashi, Tokyo> ・・・・・・・・・・
【Date】Saturdy, June 3rd, 2023 and Sunday, June 4th, 2023 (Total of 4 shows)
Saturday, June 3rd ①Starts at 1 PM ②Starts at 5:30 PM
Sunday, June 4th ③Starts at 12 PM ④Starts at 4:30 PM
※Door Opens:45minutes before the show starts
【Price】Reserved Seating Only ¥5,500 (tax included) ※Age limit: Children over 6 years old can enter
【Organizer】Sunrise Promotion Tokyo
【Support】TBSラジオ
【Contact】Sunrise Promotion Tokyo / TEL:0570-00-3337(Weekdays: 12 PM to 3 PM JPT)
※For detailed information on the official site lottery for the advanced tickets, please refer to the post for each show under the "TOPICS" tab of the website
<General Ticket Sales>
◎Date: From Saturday, March 25th at 10 AM JPT
◎Place
■Ticket Pia
 TEL: 0570-02-9999(P Code:517-702)
 Ticket Pia and Seven-Eleven in-store
■Lawson Ticket
 Lawson and Mini-Stop in-store(Loppi / L Code:34196)
■e+(e Plus)
 Family Mart in-store
■Ticket Sunrise
 Phone booking / TEL: 0570-077020 ※Weekdays 10 AM to 6 PM JPT
--------------------------------------------------------------------------------------------